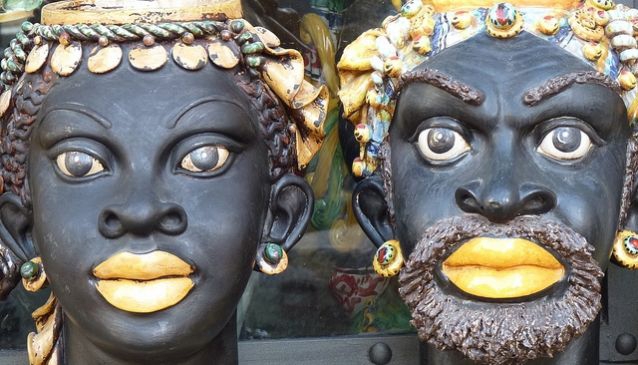 UNESCO World Heritage Sicily Tour 1
Arts & Culture
A journey through time
Our tour starts early in the morning - the journey leads us to the Capital of the Ceramics, Caltagirone. First destination is the Museo Regionale della Ceramica, which is located in the lovely, shady and well maintained town park. On display are pottery and ceramics from prehistoric times to the early 20th century, with particular reference to Caltagirone, which is known for the manufacture of colourful ceramics since the Muslim conquest of Sicily. The next must-see is the famous staircase Scala di Santa Maria del Monte. More than 180 stairs, each decorated with hand painted tiles, lead up to the Baroque church Santa Maria. Hungry? Time for a bite (or two)? Then head for Ristorante Coria, a charming place, just some steps from the staircase - perfect for a light lunch based on fresh fish. After a yummy dessert and a strong caffè we head for the next highlight of the day, the Villa Romana del Casale in Piazza Armerina, where the worlds largest Roman floor mosaics tell of mythology, hunting and daily life at the times of the Roman Emperors. These wonderful artworks are another must-see for every Sicily visitor. The last stage for today is Agrigento, where we will spend the night. But before resting our heads in one of the most beautiful and elegant hotels in the whole of Sicily, Villa Athena, we will first have a wonderful dinner on the terrace of the Ristorante Il Dehors, which belongs to the hotel Baglio della Luna, and then go on the evening tour to the Valley of the Temples. It is an unforgettable experience: the ancient Greek Temples bathed in golden flood light, under the black star-spangled sky. Very kitschy and very romantic, so it is best to come here with your love.
After a rich breakfast on the terrace of our room, enjoying the splendid view over the Valley of the Temples, we packed our suitcases and headed for the world famous archaeological site, where best-preserved Doric temples are rising between almond and olive trees, stony testimonies of the former wealth of the city. Make sure that you are equipped with sun lotion, a hat, very (very) comfy footwear and a travel guide - the plaques are not very helpful. Or you book a guided tour. Valley is a misnomer, the temples are spread across a hill. There is so much to see, the giant temples, the Kolymbetra Gardens and if that's not enough, you can visit the Archaeological Museum. Paradise for archaeology aficionados. Today's lunch consisted of Sicilian street food in form of some arancini on our way to Modica, which is a good two and a half hour drive, so no time to eat something proper at a restaurant. Seeing the Casa Talia in Modica was love at first sight - this B&B is an ingeniously designed intricate tumble of rooms, steps and pathways, immersed in a charming Mediterranean garden with olive and palm trees, shrubs and pomegranates. A tranquil h(e)aven. Seeing the deck chairs and hammocks and being welcomed so warmly by the kind owners we immediately decided to extend our stay from one to three nights.....Our hosts recommended a really great restaurant, the Osteria dei Sapori Perduti, where we were treated like VIPs and had one of the best dinners ever. Nomen est omen, sapori perduti means lost flavours, and in this cozy place we really tasted hearty but refined traditional Sicilian dishes of the region. By the way, the wine list is also not bad.
The next morning we were spoiled by our hosts with homemade jams and pastries, fruit smoothies and freshly baked bread for breakfast, what we had in the lovely garden together with our hosts. You'll need such a rich breakfast when visiting Modica, the 'Baroque Pomp in the Canyon', as the Baedeker ever so aptly says. Baroque splendor wherever you go, at every corner, in every street and alleyway, Baroque palazzos and churches everywhere, in particular the latter, Modica is also called the 'Town of the Hundred Churches'. But don't worry, we won't bore you with descriptions of all of them, for the simple reason that we only visited two of them: the wonderful Cathedral San Giorgio in the upper town, boasting an 18th century facade, an elaborate belfry and a very rich interior with stuccoes and gildings. You must be able to walk, the cathedral is reached by a monumental stairway of 250 steps. It is worth the walk, on your way up you will be rewarded with stunning views over the town. On our way back to down town Modica we did what every good Modica visitor does: we went for a chocolate tasting to the Antica Dolceria Bonajuto where they make chocolate according to ancient Aztec recipes which the Spaniards once brought to Sicily. This chocolate is not everybody's taste, but the specialties still make wonderful and unique souvenirs, lovingly packed in old fashioned tin boxes or wrapped in paper. Our next destination was something particular, an ancient cave church, that was used as a stockroom until the year 1987, when a little boy accidentally saw some faces under the roughcast. The church Chiesa Rupestre di San Nicolò Inferiore had probably been forgotten after the big earthquake in 1693. The oldest frescoes date back to the 12th century, a wall painting shows the Spanish national saint Jacob. The explorations are still going on. We skipped lunch at a restaurant and went instead to one of the numerous pastry shops, remembering that Modica is not only the city of the hundred churches but also the Sicilian capital of sweets. Heaven. Paradise. Forget about any diet, just try not to get a sugar shock. We dedicated the afternoon to Modica's best known son, the poet Salvatore Quasimodo. No, he is not related to the Hunchback of Notre Dame, and there are also no Esmeraldas or other Disney cartoon figures hanging around, good to know when travelling with children. We visited Quasimodo's birth house, which is now a museum, and headed back to Casa Talia to laze the rest of the afternoon in a hammock under a shady tree with a cool drink.
After another delicious breakfast the next morning we headed for Ragusa Ibla, the cutest and most beautiful little Baroque town in the whole of Sicily, at least for me. Not as pompous and overloaded as Modica and not as static and museum-like as Noto. Ragusa Ibla is an airy and pleasant place to visit. It is always a pleasure to stroll through this precious town, explore small side alleys, sit in a cafe sipping a cappucino or relax in the shady town park on a hot Sicilian summer day and admire the views. Ragusa Ibla is an amazing mixture of Medieval and Baroque grandeur, bursting with charm, soft colours and stony curlicues, exuding a slight fuddy-duddy romantic atmosphere. In this charming stony jewel one imagines offset to the times of Sicilian lords and noblemen, stands in awe of Baroque churches and palazzos, and admires skills and imagination of architects and stonemasons. Inspector Montalbano fans will recognize the Duomo di San Giorgio and the main square. In fact the whole town seems to be a film set. While eating a tasty sandwich in a tiny alleyway we discussed what to do in the afternoon, and opted for a cheese and wine tasting. Some of the best Sicilian cheeses come from Ragusa, and some of the best red wines are produced in Vittoria. A great place to combine the tastings is the 'Casa del Formaggio' - hmmmm Caciacavallo cheese with a nice glass of Marsala wine.
Coming back 'home', our hosts asked us if we would like to join them for dinner in Chiaramonte Gulfi, a small town famous for olive oil and porc sausages. Although not really fond of porc meat we went with them to the Ristorante Majore, a 'historic' place, their motto is "The Glorification of the Pig". And they glorify, will say, prepare the poor animals in a way that also we fell for their swinish-good and sow-delicious sausages and other ribaldries. By the way: they sell their homemade sausages....very tasty souvenirs - we bought several
A last wonderful breakfast in the charming garden at Casa Talia and we were on our way to Noto, the Baroque Capital of Sicily, also known as the Garden of Stone. Noto offers the great picture - a harmonious combination of Baroque religious buildings and palazzos. It is best to visit early in the morning, as we did, or late in the afternoon just before sunset, when the sun dips this gorgeous stony masterpiece in gold. When you don't have much time to visit Noto we recommend the superb main square Piazza Municipio and the Town Hall, Palazzo Ducezio, which houses an impressive hall of mirrors with 19th century frescoes. The entrance is free and there are not many visitors because most people head straight for the Cathedral. One of the utter joys is simply wandering around and admiring the amazing architectural harmony. So we did, and 'stumbled upon' a bar called Picnic, a smoothie and fruit bar. Just the right place on hot days. They serve great salads, wraps, ice cream and granitas. Next destination: Pantàlica, a nature reserve boasting around 5000 prehistoric cave tombs. Pantàlica can be explored only on foot, so put on your hiking boots and a hat, bring a bottle of water and your swim suit and venture out following the various natural paths which allow you to marvel at the deep gorge and the rock-cut tombs. Not being devoted hikers or climbers we followed the lower trail that took us to small natural swimming pools - also considered when you have children in tow. For the nights in Syracuse we had decided to stay in style and had reserved a room in the Algilà Ortigia Charme Hotel in the historic centre Ortigia. And it is a charming place, housed in a period building, featuring hand painted tiles throughout the hotel and boasting elegant and comfortable rooms. We had a very good (non Sicilian) dinner at the Clandestino ad Ortigia, the 'refugee in Ortigia', where they serve ethnic food, appetizers and other delicacies from northern Africa and other parts of the world. Apart from the great food, the home feel is also great, and the people who run this small restaurant. You'll see nothing but friendly and smiling faces.
This day is dedicated to ancient Syracuse, and we start it with a visit to the Archaeological Park Neapolis which is an absolute must-see for every Sicily vistor, so prepare yourself, you won't be alone. The park is amazing, including a Roman amphitheatre, a limestone quarry, a Greek theatre, altars, sanctuaries and the wonderful Ear of Dionysius, where you whisper something and it can clearly be understood at the other end of the cave. The tyrant Dionysius used to listen here to the conversations of the slaves and other underlings. For a full understanding of the beginnings and the history of the town we recommend a visit to the archaeological museum Museo Archeologico Paolo Orsi, wich is one of the biggest museums in Italy. Another great place to know more about the old Syracuse is the Castello Eurialo, a powerful fortress, where half a million people once lived. Sightseeing makes hungry, so we made it back to Ortigia. No, we did not go to a restaurant, we went to a butcher shop, L'Antica Salumeria Ortigia. A simple place, but full of simply delicious things like panini, garnished bread and cakes. The owner is very kind and will prepare a special sandwich for you. We had our panino outside, sitting on a little bench, and accompanied by a cold Sicilian beer. Strengthened we walked first to the Arkimedeion to find out more about Archimede, the best-known son of Syracuse. The museum is for young and old, displaying interactive machines for war and peace, mathematics and geometry, phiysics, statics and hydrostatics as well as a planetarium. A fascinating place dedicated to a fascinating person, where you could spend hours and hours. But don't because there is more to find out about Archimede, the Tecnoparco Archimede.
Dinner took place at the atmospheric seafood temple Don Camillo, frequented by Italy's stars, politicians and high society, a bit on the pricy side but worth every cent. Great food, excellent service, superfriendly staff.
Ortigia is small, but packed with more than 2,500 years of history. It shows at every corner who has gone through from its foundation to the present, they were all here and left their traces: Greeks, Romans, Byzantines, Arabs, Normans, Swabians, Aragonese, Catalans and the Savoy. The best way to see the island is just to wander around without a target. We just strolled through winding alleys, passed airy squares, admired the Fountains of Diana and the nymph Arethusa, payed a visit to the lovely market where vendors advertise their wares singing dirges, hopped on a boat and explored Ortigia's coast, went for a swim, had another yummy sandwich at 'our' butcher, explored the underworld via the Hypogeum, and discovered the Jewish quarter of Ortigia, the oldest part of the island. And, second to us, also the most charming one. La Giudecca is full of international flair and so Bohemian. It is like travelling through time, and we were so lucky to find an open entrance. We peeked inside and saw a splendid courtyard with a palm and a lemon tree, an ancient custom that survived until today. For dinner we went to the Trattoria Kalliope which came recommended by a friend. Good friend, great tip. Kalliope is the best place in the heart of Ortigia to rewind after a long day of walking around, a down-to-earth place where you can sit on the outside terrace and savour seafood, homemade pasta and typical sweets.
This tour can easily combined with stays at the beach or in the countryside. In Ragusa you could opt for a hotel in Marina di Ragusa and in Syracuse spend the nights in an Agriturismo (or the other way round). There are also some child-friendly accommodations in and near the towns, wonderful holiday apartments for self-caterers and romantic hideaways for people in love. Just have a look here and choose your perfect hotel. In Caltagirone it is possible to participate in a ceramics course, in Ortigia you could go to a traditional Sicilian puppet theatre and in Modica have dinner in a Michelin-starred restaurant. It's up to you.
Casa Talia is the most charming place to stay in Modica, near the historical centre but away from the hustle and bustle. A tranquil haven, stylishly furnished and decorated, with a wonderful garden, where your hosts serve delicious breakfasts on warm days.