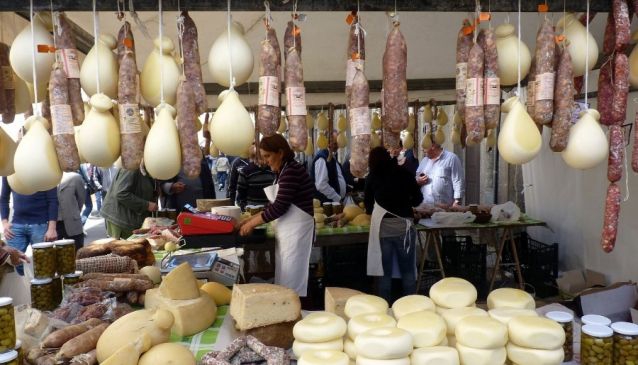 Autumnal Delights - Sicily Celebrates
Food & Drink
In October and November Sicily's villages celebrate, even the most sleepiest ones
In October and November Sicily's villages celebrate, even the most sleepiest ones. Weekends in these months are packed with events. Streets and alleyways divert into markets where local produces can be tasted, squares become party venues, wineries open their doors, folk groups play Sicilian songs, museums can be visited for free and in some places visitors can enjoy a Sfilata dei Carretti Siciliani, a procession of the lovingly and colourfully painted traditional Sicilian carts.
Sicilians just love to celebrate, every reason will do, even bread or mushrooms. And if there is nothing special in the culinary sector in their village they celebrate their patron saint, which is in doubt San Giuseppe (Saint Joseph).
So, rent a car and head out to join your Sicilian hosts, who will be delighted to welcome tourists. These local events are not only a great possibility to find some really unique and yummy souvenirs (and doing a good thing in supporting local producers), they are also a great opportunity to do some sightseeing off the beaten track and to experience Sicilian country life, local traditions and customs and live unforgettable emotions.
This article features some of our favourite weekend destinations in Autumn: around Mount Etna, in the Madonie and Nebrodi mountains, and at the sea in Mazara del Vallo, so you could combine your visits with some hours at the golden sandy beaches of western Sicily, doing sightseeing or going hiking.
More of the most interesting seasonal events you'll find at Events, our always up to date What's On listing (so check often), annual festivities and celebrations are listed at our Festival Calendar
Blue Sea Land is a great multicultural fair: from 9 to 12 October, visitors will have the opportunity to interact, learn, and enjoy the products on display from various parts of the world and, in addition, participate in seminars, promoted by organizations, institutions and "agro-fish-food" organizations. The Mediterranean Sea and its flavours, in more than 20 languages of the participating countries, are the main theme of a spectacular stage of the peoples that will have its heart in the Expo, held in the Casbah of Mazara del Vallo.
Equestrian parade and food tasting. The traditional folk festival, now in its XXXVIII edition, will see a series of cultural events, folklore and gastronomy.
The tasting of the various local food is the highlight of the event. Products are prepared with olives and olive oil. Visitors can also buy food specialties.
The village of Pollina is located not far from Cefalù, in the direction of Messina.
Tasting of typical products, permanent exhibition and parade of Sicilian carts, shows, local crafts. The area around Trecastagni is famous for its chestnut trees. Entertainment with cultural events, opportunity to purchase quality goods of the best local productions.
The food and wine event offers the opportunity to taste cheeses, wines and chestnuts. To accompany the festival there is also a market with different stalls and local artisans performing the traditional processing of chestnut wood.
Trecastagni is located near Catania at the slopes of Mount Etna.
Days of wine tastings and typical mushroom dishes of the area, guided tours, excursions, music, shows, exhibitions and conferences.
The purpose of the event is to promote and enhance the land, farms and livestock. Tasting of dishes of mushrooms and sweets, accompanied by a glass of local wine, all products of local companies. Visits to monuments and museums of Castelbuono and guided tours in the Madonie. The event offers the perfect opportunity to visit the beautiful town, with its many cultural and natural treasures.
Castelbuono is easily reachable in 30 minutes by car from Cefalù
Every year on October Sundays, the village of Floresta celebrates - traditional products, tastings, art, culture, entertainment and food stalls. The stars are, like every year, the locally produced Provola cheese and yummy things made of the Nebrodi pigs.
Each Sunday is dedicated to another theme, such as chestnuts, honey, black Nebrodi pigs, mushrooms.....
Floresta, in the Province of Messina, is the highest commune in Sicily, 1275m above sea level, located in the Natural Park of the Nebrodi Mountains.
A box full of flavours and cultural heritage, this is the Sausage Festival in one of the most beautiful little towns of Sicily - Medieval Caccamo. Opportunities for knowledge and encounter of traditions, tastes and the typical products the area. And a wonderful possibility not only to celebrate but also to visit to this precious place with its lovely and well preserved castle.
Caccamo is located on the north coast of Sicily, halfway between Palermo and Cefalù.
The Ottobrata Zafferanese is an exhibition-market of the typical products of Mount Etna, with craft and tasting stalls, many festivals of various agricultural products, live music, concerts and other cultural events.
Established in the early eighties as a simple local produce market, the Ottobrata Zafferanese has evolved over time in the direction of a complex event, full of different facets, which attract every year thousands of visitors from all over Sicily, and not only.
Zafferana Etnea is a lovely Baroque town at the foot of Mount Etna, easily reachable by car from Taormina, Giardini-Naxos and Catania.
Tastings of mushroom dishes and local products, reproduction of the forest with expert mycologists, music, live bands, shows, exhibitions, entertainment, craft market, taste market, opening and visit of ancient millstones.
Pedara is a cute village near Catania, located at the slopes of Mount Etna.