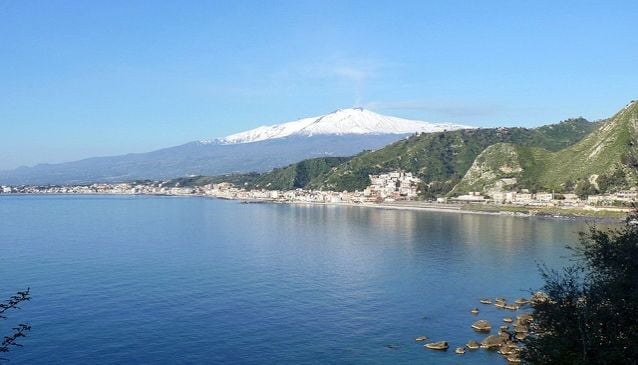 Winterly Sicily
Arts & Culture
Think sun, sea, snow, sights & seafood....
In November, when winter is knocking on the door, many of us are dreaming of a sunny place. Some of you certainly want to go skiing, but maybe the rest of the family got other ideas, like beach holidays, a city trip or sightseeing. Come to Sicily! The mild spring like climate, empty sights and beaches, snow on Mount Etna, hotels with low rates and relaxed staff: all this invites for enjoyable winter holidays on the Med's largest and sunniest island.
Day temperatures are around 16-20°C, at night they can go down to 5°C. There are also rainy days, so pack boots, a winter coat or warm jacket and raingear.
Many hotels in tourist resorts close from November to March, but city-hotels are usually open all year round, in Taormina Hotel Ariston and Villa Diodoro leave their doors open for guests, and in Giardini-Naxos the Hilton Hotel is at least open for Christmas and New Year's Eve, if not the whole winter.
Good chances to find a homely roof over your head are in B&Bs, and of course in ski resorts. Or you rent a holiday apartment. You will find open restaurants and bars everywhere, where you can taste the delicious Sicilian cuisine.
Sicily's main archaeological sites, castles, museums and art galleries are open all year round, and your big advantage is that you don't have to queue up at ticket booths and have all these attractions nearly for your own.
City and street market strolls are much more pleasant when the big summer heat is over. There are no crowds, no travel groups, just you and palazzos, squares, alleyways, cute cafes and wonderful restaurants. Many picturesque places are waiting to be discovered: Ragusa, Ortygia, the Kalsa quarter in Palermo, Cefalù, elegant Trapani, mountain and fishermen's villages like Caccamo, Savoca and Aci Trezza, only to name some of them, and of course beautiful Taormina with its intense winter colours. If you have already been in Sicily's best-known town in summer you won't recognize it now. Just imagine an empty Corso Umberto!
Theatre, ballett and opera buffs will spend unforgettable evenings at the Teatro Massimo in Palermo or the Teatro Massimo Bellini in Catania.
On sunny days you could go to the beach. Lidos are closed, but who cares. Just bring your towel and work on your suntan. Or you go for a long beach walk or plunge into the sea: very often the air and water temperatures allow swimming until December.
Last but not least: skiing and snowboarding are quite popular winter pastimes for Sicilians. There is the ski centre Rifugio Sapienza on the south side of Mount Etna, offering five ski runs, one on the northern slopes in Piano Provenzana with one ski run and a third in the Madonie Mountains, Piano Battaglia, a swiss-like alpine village. Of course we would never compare Sicily to Europe's main ski resorts in the Alps, but you can be almost certain of snow from November to March.
To be independent, rent a car at the airport and make sure that it is equipped with snow chains.
Have a great holiday!