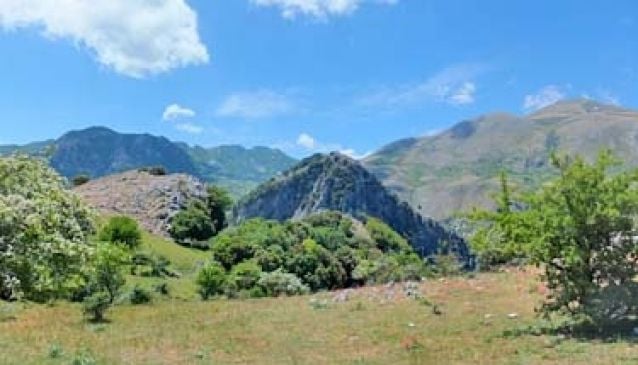 Mushrooms, Manna, Middle Ages
Adventure
...where every stone and tree whispers of history
The Madonie Mountains south of Cefalù are one of the most beautiful areas Sicily has to offer. Rocks, creeks, rare plants, giant holly trees, fairy tale forests, medieval castles, snow in winter, shade in summer, hiking trails, hearty mountain cuisine and some of the best wines of the island.
The leading role of the Parco Regionale delle Madonie plays the flora. This botanical paradise houses more than the half of the 2.600 Sicilian species and about 150 of the 200 endemic plants of the island. From several points of the park you have wonderful vistas to Mount Etna, the Nebrodi Mountains and the Aeolian Islands, The almost unreal colours of dawn and sunset will be unforgettable.
Reference point for interested visitors is the Hiking Center in Petralia Sottana, where they will be provided with all information needed and can book guided hikes, exciting tours and - if they are travelling with children - educational workshops and courses. "Piano Zucchi" in the centre of the park is a nice relax and rest area for mountain bikers and hikers.
There are several hiking and mountain biking routes, some of them require a stay of minimum three days. Scattered over the whole area, visitors find all kinds of accommodation, from Agriturismos, B&Bs and small hotels to luxurious places like the Relais Sant'Anastasia, which is housed in an atmospheric old abbey, featuring also a winery.
The Madonie are a great destination for a day trip from Cefalù and Palermo. If you start early you could also plan a tour from Taormina, Giardini- Naxos or Letojanni. The most interesting place would be the charming medieval town of Castelbuono with its well maintained castle and good restaurants. For tots we recommend a visit to the awarded and internationally known confectionary Fiasconaro.
Castelbuono is surrounded by manna ash tree forests. Everywhere in town you can taste and buy the sweet delicacies people make with and of manna.
But the Madonie Park is not only a place for hikers, also Middle Ages aficionados will find in nearly all towns and villages imposing castles, winding alleyways, small squares and romantic places where time seems to stand still. Apart from Castelbuono, Petralia Soprana and Petralia Sottana are also well worth a visit. Both are charming villages at the border of the regional park, boasting some great eateries. Lovers of hearty mountain cuisine, based on meat and tasty vegetables, will come at their cost the whole year round, but especially in autumn when it is "Ceps Time" in the Madonie. Wine fans will appreciate the fact that some of the best wines of Sicily come from this area.
A lovely walk for the whole family, where even untrained people can participate, starts near Castelbuono and leads through holm oak and cork oak forests with hanging lichtens to a magical place near Piano Pomo, where giant holly trees of up to 15 metres height grow - a unique relic of the Ice Age. Maybe good old William Shakespeare wasn't only in Messina, where he got his idea for Much Ado About Nothing, but also here, and these fairy tale forests inspired him for the Midsummer Night Dream.
Children and teenagers, but also their parents, will love a day (or two) in the Parco Avventura delle Madonie, which offers a great activity high in the trees. Basically this is a walkway made of roped ladders which is raised high off the ground and offers entertainment on several courses of various difficulties. For more adventurous and brave kids you can try it at night time! There is even a tent with a transparent roof. Parents are encouraged to try alongside their children, which makes for a fabulous and brilliantly exciting day out for the whole family.
You can also do walking, mountain-biking or just normal cycling (all equipment will be provided), jogging, trekking and horse riding. All this can be enjoyed with a variety of activities and events held throughout the year, also in winter.