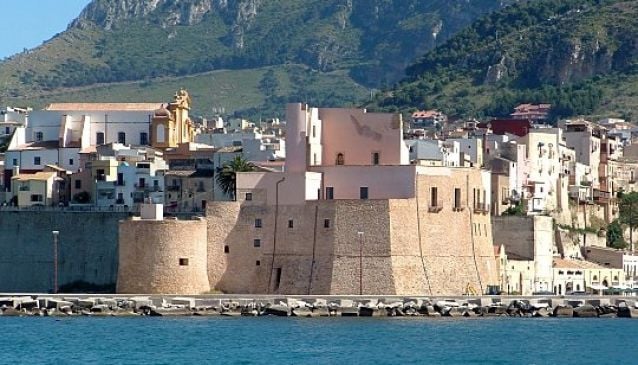 Secrets of Sicily - Castellammare del Golfo
Hot List
Quaint and pretty, Castellammare del Golfo nestles around its castle and small port and is entirely enclosed by surrounding hills.
The best place to hang out in Castellammare is the cute little port below the castle. This gorgeous area is replete with wooden boats parked in among the cars and drying nets. There are also a number of places to eat and sleep in this area.
The major attraction is the 17th century Aragonese castle on the rocky walls above the harbour. Inside are some museums and the tourist office. The Museo Etno-Antropoligico Annalisa Buccellato was established by the parents of this little girl when she died. It contains old typewriters, farming utensils, water wheels, books and newspapers - great for children. The Museo dell'Acqua is the other museum here with various information about Arab irrigation systems

From the tourist office you can also head up the spectacular staircase to the roof where there are good views. The other place worth wandering to is the 18th century Mother Church with its distinct yellow facade.
Castellammare del Golfo was once considered the worst place in Sicily for Mafia violence, and many important Mafia people actually came from here. It's hard to believe this given its idyllic and quiet state today.


The best dining and accommodation is in the port. Seafood is the specialty here, and given the reliance on the local fishing industry you can be assured that most of it has literally flipped out of the sea that day and onto your plate. Some of the restaurants actually display fresh fish in a tank outside. The other thing to try here is the couscous. There aren't a lot of accommodation options in Castellammare del Golfo but they do cater for a range of budgets. There is a campground about two kilometres from the train station (500 metres from town), a few B&Bs and hotels.
There's no need for any transport in town as all the main sights lie in and around the port. You can rent boats in summer to explore on your own, or go out on various excursions to places like San Vito Lo Capo with its Caribbean-like beach, picturesque Scopello, a fishermen's village where parts of the film Ocean's Eleven were shot, and to the nature reserve Parco dello Zingaro, where you could botanize, do some bird watching, go for easy walks and swim or snorkel in the clear waters. With a little luck you will see eagles.
Castellammare del Golfo is also a good starting point for a day trip to Erice, a small town perched on a rock, which has conserved its medieval origins and boasts phantastic views of the Egadi islands and elegant Trapani, the city of salt and sailing, boasting extended salt marshes and a Baroque centre. Also Segesta with is wonderful temple is well worth a visit. In summer you could enjoy here a theatre or musical performance in the old amphitheatre. Also in a short time reachable are Caccamo, where a must-visit is the lovely castle, and – of course – Palermo, Sicily's hustling and bustling capital, a city which is an open-air-museum itself. For those who want to experience the extraordinary: Gibellina Nuova, the village with the highest density of modern art in Italy is a short 30 minutes' drive by car.
Castellammare del Golfo is our secret tip for travellers who want to avoid the crowds and spend holidays off the beaten track.