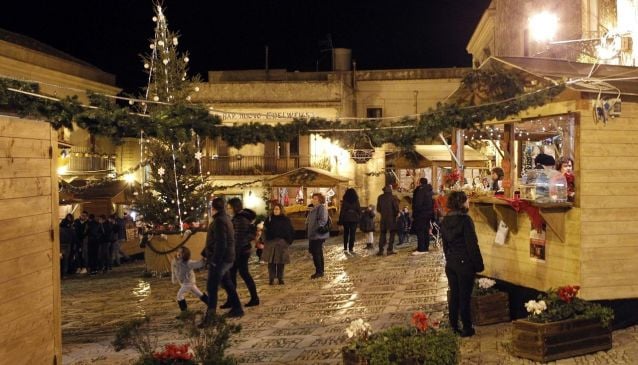 Christmas in Erice
Food & Drink
Christmas Magic in a Medieval Setting
Erice, perched high on a rock, is always worth a visit. But in December it just becomes magic. From 6th of December to 6th of January the historical centre of the ancient town diverts into a Christmas village, it is the biggest event of the year called EricèNatale. A unique experience for locals and those who spend their winter holidays in the area between Trapani and Palermo: not only that you can discover the magnificence of its churches and museums, monuments and archaeological sites, you could also take advantage of a full calendar of initiatives and events: markets, bagpipers, shows, concerts, theater, dance, art, gastronomy and handicrafts. Download the program here
Visitors should leave their car in Trapani and go to Erice by cable car - it is an exciting way to reach the town and you can enjoy beautiful views over the sea up to the Egadi Islands.
Nativity Scenes are spread over the historical centre of the lovely little town. The most relevant is the one exhibited in the Museo Cordici, spectacularly realized with marine materials and characters in precious alabaster, testimony of the ancient art of cribs of Trapani. Of particular value is also the royal monumental mechanical crib made by Jaemy Callari, which this year will see a new location. The spectacular installation is set up in the foyer of the theatre of Erice. The Nativity Scene of Callari retraces the steps from the birth of Jesus until the exodus to Egypt. Everything is handmade by the artist himself. Many other cribs of each gender, from ceramic to wax to terracotta, are exhibited in shops, streets and backyards, and even in private homes which are open to tourists.
The "frame" of the 24 cribs in the historical centre will be concerts in churches and in the square Piazza San Giuliano, theatre and dance performances, art, food and wine and the famous Christmas market in Piazza della Loggia. Among the picturesque wooden huts, between hot chestnuts and mulled wine, you can find products of artistic craftsmanship, which make unique gifts, and you can try local food specialties. Also the New Year will be celebrated in this square with artificial fireworks and musical entertainment.
Watch the videos Video 1 and Video 2
My Guide Sicily wishes a Merry Christmas!
Opening hours:
Christmas Market: Monday-Thursday 10:00 to 19:00 h, Friday and Saturday 10:00 to 23:00 h, Sunday 10:00 to 21:00 h. Closed on December 25
Museo Cordici (via San Rocco 1): daily 10:00 to 19:00 h
Venus Castle & Torre Pepoli: 6/7/8/13/14 December and from 20/12 to 06/01 10:00 to 16:00 h

Single admission museum or Venus Castle/Torre Pepoli € 5.00; integrated ticket € 6.00

Churches (Cathedral, Tower of King Frederick, San Martino, San Giuliano): Dec 26th to Jan 6th 10:00 to 17:30 h (single entry: € 2.00; passe-partout ticket: € 5.00)
Exhibitions

Arts and crafts of yesteryear ...: Spanish Quarter, by the Association Arkè - Art and Culture of the Mediterranean Archaeology (6/7/8/13/14 December: 10:00 to 15:00 h; from December 20th to January 6th: 10:00 to 17:00 h; closed on 25/12/14 and 6/01/15)

The Art of Wax Modeling: Church of San Giuliano