Best Piazzas in Sicily
Arts & Culture
Piazzas are immersed in thousands of years of history, so definitely worth checking out
Sicily has a lot of beautiful squares (Piazza is a 'Square' in English) which are amongst the best Sicily attractions, and here at My Guide Sicily, we would like to share few of them with you. Piazzas are immersed in thousands of years of history, so definitely worth checking out on your next visit.
Palazzo Adriano
This is the all-time best piazza in Sicily and should you make the journey here you might well recognize it from Cinema Paradiso. The 1980s classic movie made the square famous and indeed it's one of the largest and most beautiful squares you will see in Sicily – complete with churches and cobbled stones.
Piazza Scammacca, Catania
Catania's best place to hang out is Piazza Scammacca. Here you will find large television screens showing football matches, or there could be a live band playing. Restaurants in this area serve anything from steak to pizza or you could simply get an ice-cream and sit and do some people watching. A good evening out in Catania.
Piazza Umberto I, Erice
Erice has so many lovely nooks and crannies it's hard to choose just one, but Piazza Umberto I is the central square at the topmost part of the town and a great place to rest if you've headed up through town. The square also has cafes and a wonderful medieval ambience.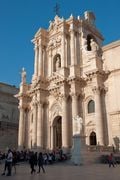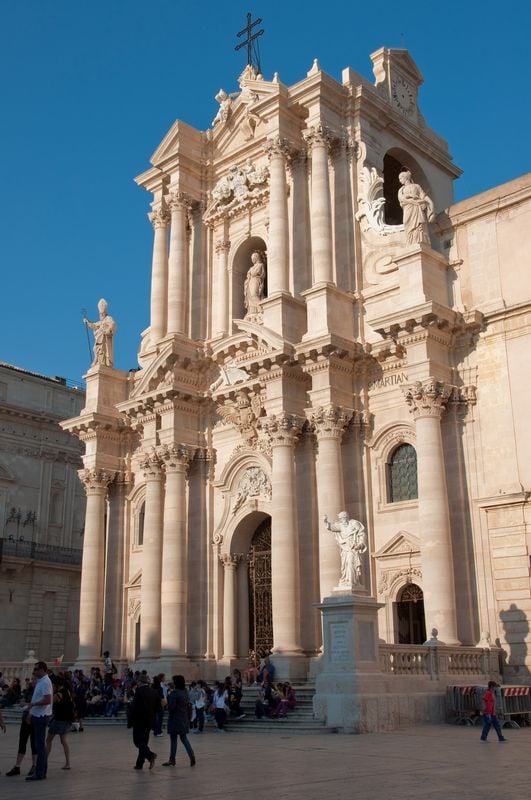 Piazza del Duomo, Cefalu
This tiny little fishing town has gleaned more tourists than most small places in Sicily in recent year's thanks largely to its seaside location, excellent fresh seafood choices and its wonderful square featuring the beautiful cathedral in which you can find some splendid mosaics. What's particularly spectacular about the main square in the old town of Cefalu, is that the cathedral backs right up against a rocky outcrop that almost seems to hem the whole town in between cliffs and coastline. It is quite a sight and the cafes have made the most of the square with seating available to enjoy the views.
Piazza Principale, Chiaramonte Golfi
Chiaramonte Golfi has often been called the "balcony of Sicily" for its phenomenal views over the Ragusan countryside. There are wonderful views everywhere in this lovely town and the air is far cooler here than deep down in the valley below.
Piazza IX Aprile, Taormina
Taormina has many pretty squares and piazzas but one not to miss is the Piazza IX Aprile with its fine views of the gulf and Mt Etna. However it's not just the superb view of Mt Etna that attracts locals and tourists alike here – there are even cafes with tables on the terrace. The square is also enclosed on three sides by fabulous buildings including the churches of San Giuseppe and San Agostino plus the Clock Tower whose arch provides access to the old town.
Piazza del Duomo, Ragusa Ibla
One of the most delightful corners of Sicily is this delightful piazza made famous by the television series Montalbano. The Baroque duomo that fills the top most part of the square is a particularly good feature of the architecture of the region. If you were just passing through Ragusa Ibla this church and piazza would be the one thing that you should definitely come and see.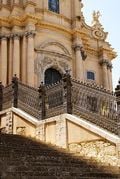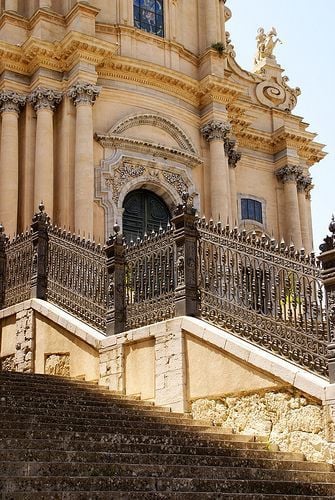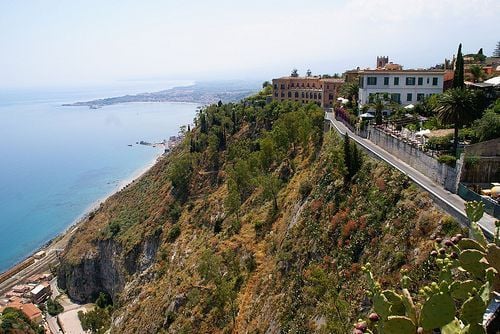 Piazza Scandaliato, Sciacca
This lovely piazza has several cafes and splendid views of the sea and is well worth stopping into. At night it is filled with couples and families out enjoying an evening stroll. Just back from the piazza is the Duomo that was first erected in 1108 and rebuilt in 1656.
Piazza Margherita, Castelbuono
This delightful village in the Madonie Mountains is only 40 minutes from the coast but could be miles away. Piazza Margherita contains all the main sights – the tourist office, the gloomy Matricia Vecchia church with its bold frescoes and the squat 4th century  Il Castello de Ventimiglia. A number of cafes, restaurants and shops border the square featuring fine food and liquors of the region.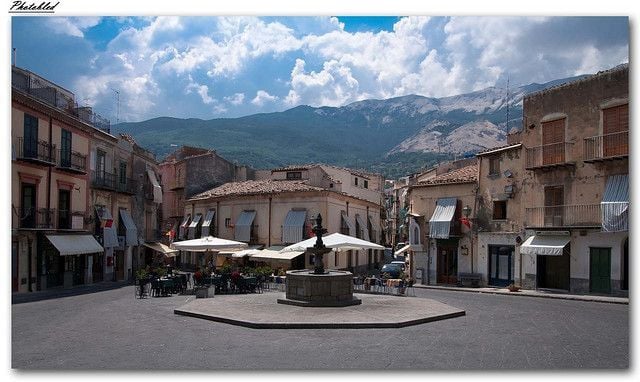 Piazza Fossia, Savoca
This has to be one of the most famous piazzas in Sicily – even those who've never been to Italy will have seen it. Piazza Fossia is where Bar Vitelli is located that was used for filming during the Godfather movies. It was here where Michael Corleone's betrothal scene to Apollonia was set. The interior is also colourful featuring vintage sewing machines, beaded curtains and pictures from the movie. The granita and liquori di limone are also famous here.