Catania City Stroll
Arts & Culture
One day in Catania - the dark daughter of Mount Etna!
We start our city stroll very early at the main square, the delightful Piazza del Duomo. This square and its surrounding buildings were designed by the architect and builder Giovanni Battista Vaccarini, who was born in Palermo. At its heart  is Catania's symbol, an elephant carved out of lava, balancing an Egyptian obelisk, called "U Liotru" the Sicilian pronunciation of Heliodorus, an 8th-century sorcerer, who is tied by legend to the origins of the statue. The Cathedral  is dedicated to the city's patron saint St. Agata. Inside are several ornate chapels and a fresco recording the 1693 earthquake. Catania's most famous son, the opera composer Vincenzo Bellini is buried here, as are also three Aragonese kings: Louis, Frederick II (not to be confused with Frederick II of Hohenstaufen) and Frederick III. Across from the Cathedral are the underground ruins of Greco-Roman baths. At the square we will find the town hall and the Diocesan Museum. The Catanesi love their Saint Agata so much that they also named a church just across the square and 15 other churches after her.
Each year in from 3rd to 5th of February Catania honours its patron saint with the Festa di Sant'Agata, one of Italy's biggest religious festivals. Streets and squares are packed with people watching and following the processions. If you are in Sicily do not miss this festa – three days music, dancing, art, theatre and street partying are waiting for you.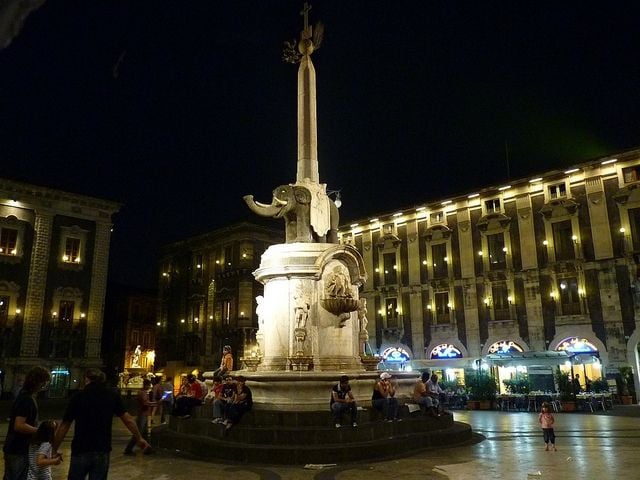 We are heading south now towards the port, going under the arch of Porta Uzeda and then turning right to "La Pescheria". Catania's bustling, colourful and odorous fish market is the oldest market of the town and one of Italy's most memorable, where we can admire and buy the most incredible fish. Famous are the "oxeyes", huge pearly mussels, which are eaten either raw or grilled with olive oil and garlic. Everywhere extend the long dagger-like noses of swordfish in the air. Surprisingly, most of the customers in traditional markets are men. The fish purchase is a very serious matter, men stand in groups together with the traders and discuss extensively. Of course this does not mean that women are met with suspicion, they just do not participate in the discussions, but buy their fish without the said ceremony. Don't wear leather shoes, rubber boots are more appropriate. In the Pescheria market we enter a different world, that has remained unchanged for hundreds of years. Best time to visit: early in the morning.
There is another important daily market at Piazza Carlo Alberto, the "A Fera o Luni", where you can buy vegetables, meat and fruits and meanwhile also the inevitable cheap textiles and bag imitations.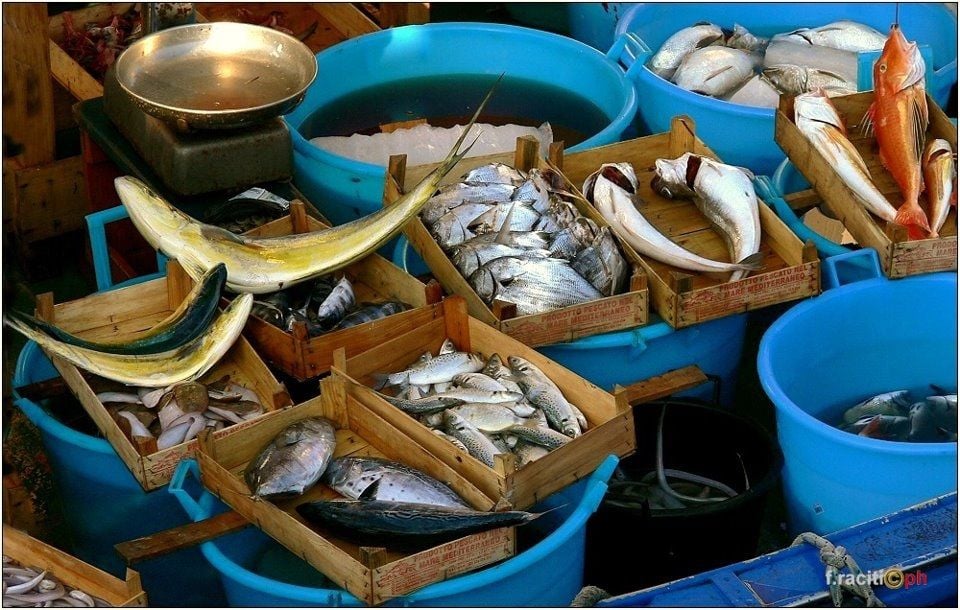 Are we still together? Nobody lost in the hullabaloo of the market? Then let's head south west to Piazza Federico di Svevia and his old fortress Castello Ursino, which was built about 770 years ago on a rocky cliff overlooking the Ionian Sea. It does not overlook the sea anymore – the enormous lava spill of Mount Etna in the year 1669 pushed the sea back, you will find Castello Ursino now more than 500 m away from the coast. Today the castle houses a gallery of local art and the Catania Civico Museum with a rich collection of artworks from antiquity to the present. In the large ground-floor rooms, an outstanding collection of antique sculptures and bronzes is shown..
After a little detour to stunning Piazza dell'Università we are now walking back northwards – to have a look at Catania's ancient origins, dating back to the 8th Century BC when the city was founded by Greeks from Chalcis. It then became Roman and three theatres have survived. Amazingly enough, considering the volcanic eruptions and several strong earthquakes. The Teatro Romano in Via Vittorio Emanuele was built in the 2nd Century AC on the site of a Greek theatre and  is an excellent example for the use of lava stones even in ancient times. Nearby is a small theatre, the Odeon and at Piazza Stesicoro at the crossroads of Corso Sicilia and Via Etnea, we admire the Amphitheatre, but only from outside, because it is closed to the public. It was the Sicily's largest amphitheatre, that could accommodate around 15,000 spectators! Underneath it runs a warren of passages which remind us of the far better known big brother in Rome, the Coliseum.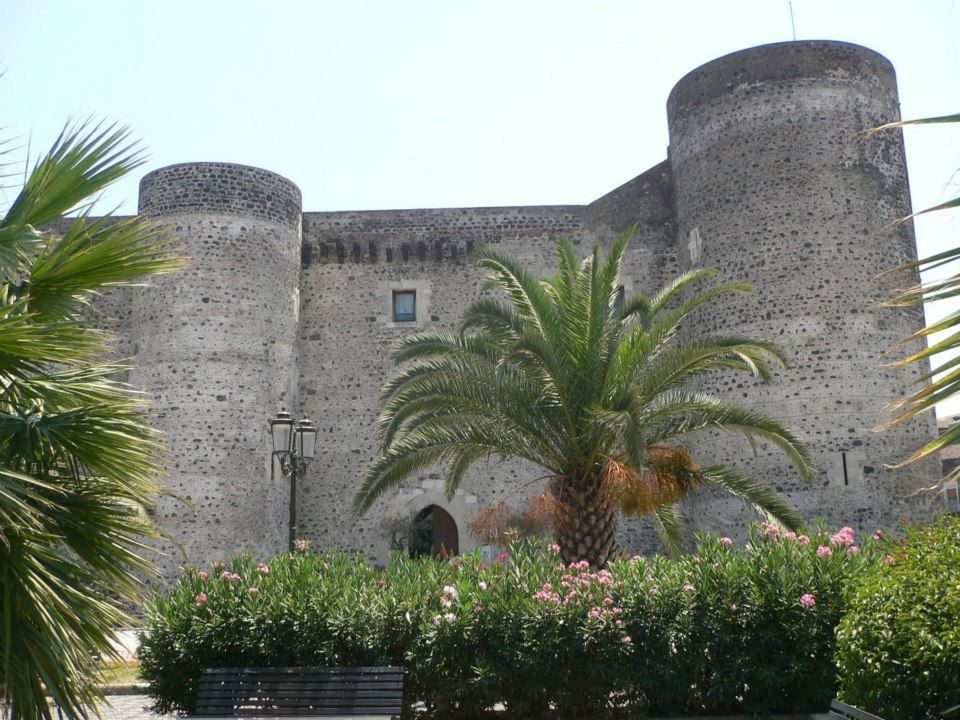 Our next stops are at the birthplace of Catania's best know son, the opera composer Vincenzo Bellini, which is nowadays a museum, the Museo Civico Belliniano and a short walk away at the gorgeous opera house Teatro Massimo Bellini, a magnificent building with an even more pompous interior. You can request a guided tour by phone. The opera season starts in October and runs until June, so if opera is your thing it is well worth a visit.
In the area are many restaurants, so what do think of a bite to eat? It's lunch time and the perfect place to try THE Catanese specialty – Pasta alla Norma – dedicated to Bellini and named after his best known opera "Norma". Penne (noodles) with a rich tomato sauce, fried chunks of eggplant, sprinkled with grated salted and smoked ricotta cheese. Buon appetito!
After lunch we head back north, direction Piazza Duomo to Catania's most beautiful street, Via dei Crociferi, where baroque churches are strung like pearls on a string and continue to wonderful Villa Bellini. No, it is not a villa, it is the town park, a green oasis of peace, the lung of Catania. Relax before the hardest part of the day starts: Via Etnea – Catanias shopping street with dozens of small shops and boutiques, bars and cafes. Since some parts of Via Etena are closed to the traffic, so it is really fun to stroll around – and it is even more fun to find out that prices are much lower than in Taormina.
Oh yes, and whenever we are thirsty we stop at one of the numerous chioscos, which are part of Catania's urban culture. Freshly squeezed fruit and veggie juices and other liquid delights, the most refreshing institutions.